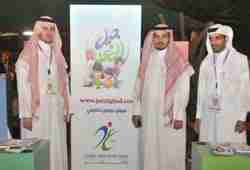 Saudi FDA Participates in the International Attention Deficit Hyperactivity Disorder (ADHD ) Day
The Saudi FDA participated in the 3rd. Abqari Festival organized by ADHD Society on the advent of the International ADHD Day at King Faisal Specialist Hospital & Research Center during the period 20-21 Shawal 1431 AH. SFDA participated in the festival through its www.jeelalghad.com/website which was under the auspice of HRH Prince Abdul Rahman Bin Masaad Bin Abdul Aziz . The festival was attended by a number of Saud Football Stars, Artists, large number of visitors and parents of the sick children.
SFDA endeavored, via its jeelalghad stand, to provide clear and direct information to children in an interesting, attractive and modern style and format, aiming to raise children's awareness and encouraging them to visit the website as it contains several sections for children such as stories, games, fun and entertainment, drawing & painting, contests and gifts. SFDA also distributed awareness brochures and handouts to children as part of its contribution to the 3rd. Abqari Festival
It worth mentioning that ADHD Society was established in 2008 aiming to raise awareness of families, individuals and workers in this field, e.g. physicians, education and social specialists, etc. about ADHD and how to deal with it, develop laws and regulations to guarantee the rights of this category and secure the necessary services for it, e.g. specialized clinic, ADHD treatment and organize local and international conferences to discuss ADHD impact on families and community and to track the latest methods of treatment .