Understanding Girls with ADHD
Kathleen Nadeau and Ellen Littman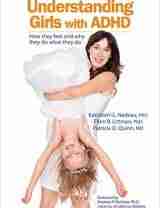 In this expanded and updated book, Kathleen Nadeau, Ellen Littman, and Patricia Quinn rise to the occasion and deliver a comprehensive, up-to-date, and readable book that illuminates the complexity of ADHD in girls and women, both across the lifespan and across multiple domains of life (e.g.,
home, school, the workplace, close relationships). Blending clinical examples, case material, and a masterful synthesis of research findings around the world, the authors reveal the roots of ADHD in females during the preschool years, also summarizing relevant causal factors, and display the highly individualized journeys through childhood, adolescence, and adulthood that these girls and women face. The book's latter chapters make use of the information on ADHD and development and provide a synthesis of the kinds of treatment strategies needed to intervene with the complex issues faced by girls and families who struggle with ADHD. The authors' working through the executive functioning deficits experienced by so many girls with ADHD―and their deployment of vivid examples of right vs. wrong ways of approaching such problems―will be of great importance for large numbers of families. Even more, the authors emphasize that ADHD rarely exists in a vacuum and that understanding and treating co-morbid disorders is essential.
Have you read this book?
Leave your review in the comments section :
هل قرأت هذا الكتاب؟
أضف مراجعتك في قسم التعليقات :