Teenagers with ADD and ADHD: A Guide for Parents and Professionals
Chris Dendy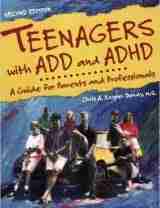 TEENAGERS WITH ADD AND ADHD gives parents insight on everything from understanding the diagnosis to treatment options, and from behavioral and academic issues, to parent involvement and self-advocacy. The new edition includes additional or updated information in several areas. A separate chapter on medications provides details on specific drugs, including many new ones, and what research shows about their effectiveness in improving attention, impulse control, and distractibility. Dendy discusses new findings about the role of executive function problems and how they relate to teenagers difficulties with organizational skills, long-range planning, and staying on task. She advises parents on their role in working with schools to find strategies for academic success. Teenagers also speak out about their condition, and Dendy points to ways to involve them in their own treatment plan. In addition, the book covers coexisting disorders such as learning disabilities, depression, anxiety, Tourette syndrome, and Asperger syndrome.
Since 1995, this nuts and bolts guide has given parents hope and empowerment. It's chock-full of the latest data and proven strategies that can help manage the symptoms of ADD and ADHD at home and school.
Have you read this book?
Leave your review in the comments section :
هل قرأت هذا الكتاب؟
أضف مراجعتك في قسم التعليقات :